Posted: 10 years and 9 months ago
Checking In On Band-a-Camp-a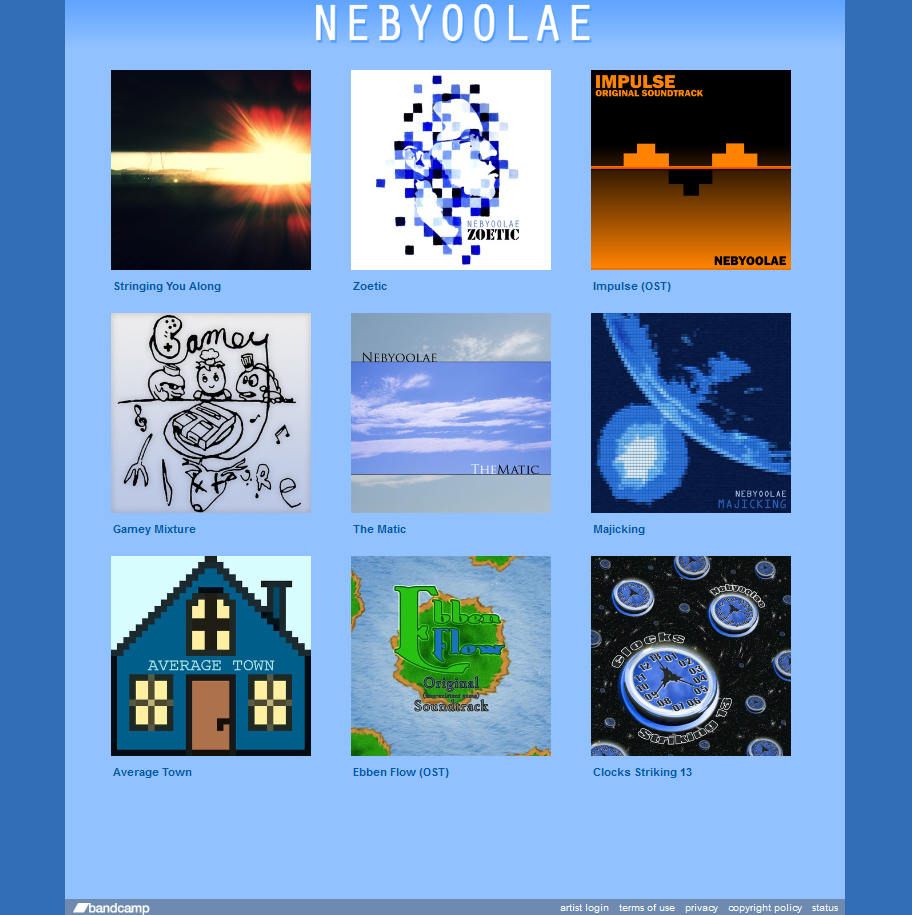 Since getting most of my albums up on Bandcamp earlier this year, I've checked the stats pretty much every day. BC keeps track of plays (partial and full), "buzz" (where people come from), and purchases/downloads. It's in a nifty graph and you can see recent, all-time, and many intervals in between. It's something I never got around to doing properly when I created a custom place to host my music, so I'm glad they're smart and ambitious and can deliver something better than I'd ever come up with on my own.
I thought I'd just share some statistics that have been collected over the past 7 or so months since I joined:
Plays The top two most-played songs are the first tracks off Impulse (OST) (12am) and Zoetic (The Jam Bridge). They each have about 90 plays, which feels small, but is about 40% higher than the third place spot. Since they're the first tracks, it's natural they'd have the most plays: most people never get past the first one. Overall, I've had exactly…1,337 plays. Hax0riffic.

Buzz I don't advertise too often, and when I do the audience is pretty small and insular. Regardless, my Bandcamp site has been visited over 4000 times, with about 65% of those visits being direct links (most likely me linking the site in chat or people just going there cuz I told them about it at some point; it says it doesn't track me as long as I log in, which I do most all the time, I swear!).</p> I use Twitter and Facebook as my main broadcast medium, but they don't seem to result in much follow-through. Either that or Bandcamp is analyzing my stats wrong, or Twitter/FB obfuscate their sources somehow. Leaving a single comment on a post on tentblogger.com actually got me the most views from a single domain source, which kind of blows me away. It's all about what has the largest audience! Statistics work.

For some reason, over the last few months my site has gotten a significant number of hits from .ru websites. Spam? Secretly big in Russia? Not sure.</li>

Sales/Downloads Moving to Bandcamp made it both easier to host and distribute my music. It also added an opportunity to easily sell my wares. Of course, I didn't think anybody in this day and age would pay for my stuff since I'm still mainly unknown, my production is amateurish, and there's so much free stuff online that we've devalued music itself. My predictions were pretty much spot-on save for some friend purchases, but every now and then I got surprised by someone spotting me a few bucks (all my albums are now, and have been for a while, pay-what-you-want), which I appreciate.</p> In 7 months, with 9 albums to choose from (altho it started at 7), I've had 93 downloads, 12 of those being purchases. Not enough to pay the bills, but…well, OK, it's really basically nothing. But it's not nothing. Still, it's cool to know and see.</li> </ul>

Bandcamp is awesome. They're free and their interface is nice and they have a cool name and the ability to use your own domain. I've found a bunch of interesting bands on there, too, which you can now see here. I highly recommend their whole operation.